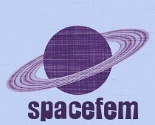 lady spacefem
Wichita Kansas USA
Spacefem is an engineer who also loves graphic design. You can use the fabrics you buy from me for anything, even things you sell, I am happy to see it used and would love to see what you've made!
Spacefem's News
abisra's_collection commented on spacefem's design:
Innocent question... How did you deal with the copyrights? I recreated this and other artwork using my own characters but some companies claim they own this design, specifically Westinghouse, who was commissioned to create tis illustration by the US government. Many websites claim this artwork belongs to the public but some attribute this to he company mentioned above.
alysania uploaded a project photo for spacefem's design:
Sloan Leggings via Sprout Patterns / Hey June Handmade
gabeek commented on spacefem's design:
i would like to order a larger size of this image