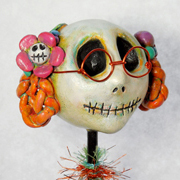 Leigh Hannan
Norwich New York
I grew up in a cookie-cutter neighborhood where all the houses were a different shade of boring. Then I visited El Paso, which kindled my love for Day of the Dead, skellies, and most of all: COLOR!
Skellychic's News
rourman uploaded a fabric photo for skellychic's design:
I *love* this design, but the pattern is too small! Any way you can make the pattern design larger to make into shirts?