For this week's challenge we're heading to the race tracks with the party planning experts at Black Twine. A celebratory weekend at the track wouldn't be complete without iconic cocktails like mint juleps, larger-than-life hats, roses and of course, horses! Using your favorite medium of choice, we challenge you to create a repeating design incorporating what you'd see from this equestrian sport.
---
Overview
From a challenge inspired by International Women's Day on March 8 to a prompt that will have you dreaming up your next fixer upper, we think this month's design challenge themes will spark your creativity (and maybe even your taste buds!). If you've been trying to design more in 2018, why not set a goal of entering all four challenges this month? Can't commit to all four weeks? That's OK! Our monthly challenges are designed to encourage your creativity in a fun way that works with your busy schedule!
Prizes
1st place winner will receive a $200 Spoonflower credit and will be featured in the Black Twine Off to the Horse Races Party Blueprint.
2nd place winner will receive a $100 Spoonflower credit.
3rd place winner will receive a $50 Spoonflower credit.
Remaining top 10 designs will receive a $20 Spoonflower credit. The top 25 popularly-voted designs from each theme will be automatically made available for sale in the Spoonflower Marketplace (provided they are a verified seller) where they will receive 10% commission on every sale -- no $5 swatch required.
The Winner
The rest of the Top 10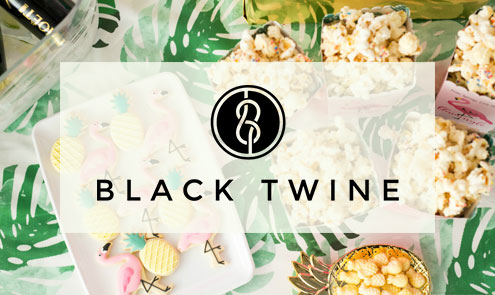 Black Twine
Party Planning for the Modern Host
Black Twine is a modern entertaining platform that provides visually inspiring party content, planning tools and commerce through a premium community of party professionals.
Black Twine
Off to the Horse Races Details
The deadline for entries is Tuesday, March 13, 2018 at 3 PM EST.
Designs will be previewed at 150 DPI in a small, Roostery Malay round (70" round) tablecloth on the voting ballot.
All designs will be eligible for public voting, and the popular vote determines the top 25 winning designs. Black Twine will choose the first place winner from the popularly-voted top 25.
Public designs previously uploaded on Spoonflower.com are not eligible for this contest. Designs do not require printed proofing to enter the contest.
Moderation will take place at the close of the contest deadline.
See our blog page for even more Design Challenge details and a list of previous themes.
Timeline
02/27/2018: Submissions open
03/13/2018: Submissions close at 3pm EDT
03/15/2018: Public voting opens
03/20/2018: Public voting ends at 3pm EDT
03/22/2018: Spoonflower will announce the winner