Scope out the top Vintage Christmas designs from the Spoonflower and Commonthread Design Challenge! Check back for new design partner challenges monthly.
---
Overview
Get a jump on your holiday crafting – it's Christmas in August! Our Commonthread Vintage Christmas Design Challenge inspires a fresh take on a classic holiday theme for an exclusive collection of customizable Commonthread stockings. For this challenge, we are looking for a vintage inspired Christmas fabric design that will be transformed into a stocking!
Prizes
Our grand-prize winner chosen from the popularly-voted top ten receives $350 in cash and their winning design will be licensed for an exclusive collection of customizable Commonthread stockings to be sold this winter. The grand-prize winner also takes home a $100 shopping spree to Commonthread and $350 in Spoondollars. Those voted into second and third place win $100 in Spoonflower and $100 in Commonthread credit, and the rest of the top ten take home $50 in Spoonflower credit and $50 in Commonthread credit. Winners will also be featured in an exclusive press release written by Spoonflower, recognition in Sponsors' emails, blogs and on social media channels.
The Winner
The rest of the Top 10
The full list of entries and votes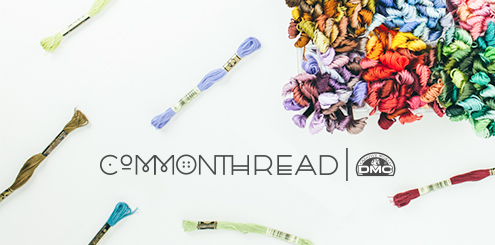 Commonthread
Join the Handmade Revolution
Commonthread is the DMC lifestyle brand that uses DMC's world renowned textiles to create innovative projects for modern makers. Commonthread engages DIY artists and hobbyists all over the world through high quality products, tutorials, trend-setting kits and DIY inspiration. Commonthread honors the heritage of stitching while providing fun and innovative ways to teach the next generation this timeless art. By matching the best textiles in the world with uniquely creative products, Commonthread offers everything you need to experience a life handmade.
Commonthread
Commonthread Vintage Christmas - Finals Details
Check out our blog post and Pinterest board for more design inspiration.
The deadline for entries is Friday, August 12, 2016 at 3 PM EDT.
Commonthread and Spoonflower will curate 100 designs from all submitted entries to be eligible for public voting.
Designs will be previewed at 150 DPI in a fat quarter size (21" x 18") on the voting ballot.
Commonthread will choose a grand prize winner from the popularly-voted top ten designs.
Designs previously published on the Internet are not eligible for this contest. Designs must be uploaded to a new design slot in your Spoonflower account. Designs do not require printed proofing to enter the contest.
Moderation will take place at the close of the contest deadline.
Timeline
08/01/2016: Submissions open
08/12/2016: Submissions close at 3pm EDT
08/17/2016: Public voting opens
08/23/2016: Public voting ends at 3pm EDT
08/25/2016: Spoonflower will announce the winner