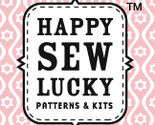 All designs by Berene Campbell
Creative junkie. Chocoholic. Mother to two awesome kids and one cable-nibbling rabbit. Designer by trade. www.happysewlucky.com Thanks for visiting!
Description:
As per the kits in my Etsy store, these designs are simple sewing patterns printed directly on the fabric, and designed to be sewn up into something fun. Most have step-by-step photographic tutorials on my blog to help you assemble them with a smile on your face.