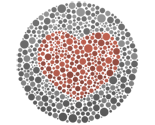 All designs by Colourlovers on Spoonflower
We are an awesome community that connects here and on Colourlovers.com, sharing creations, tips and discoveries, exploring surface design together.
Description:
This was a collaborative project from the heart for Colourlovers member, o2bqueen, by members of the Colourlovers on Spoonflower group. The quilt was completed and presented November 2011.