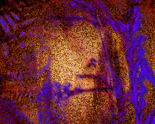 All designs by Marie-Therese Wisniowski
I work full time as an ArtCloth studio artist, researcher, author, curator, speaker & tutor and maintain Art Quill Studio in NSW, Australia. I am also a casual lecturer in textile/graphic art & design at the University of Newcastle, Australia.
Description:
Designs have been created from photographic images which have been transformed using painterly tools in a digital format. The colors have been sensitively and painstakingly manipulated to create a complimentary colorways suite. The stunning designs can be used for interior design and clothing items.