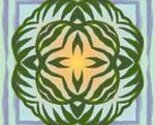 All designs by Harriet Russell
Studied sculpture & figure drawing.Tried many crafts + picture framing & art restoration. I started with SF when I thought that to sell an "original" purse, I had to have designed or made it all by hand myself! :o) Now I'm designing for it's own sake.
Description:
small flower-inspired shapes using the Nouveau palette kaleidoscoped into a variety of designs.