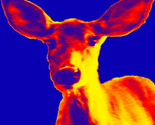 All designs by Marsha
I have an eclectic mix of graphics, historical, natural and abstract art, created traditionally and digitally. Many of my designs can be found on other products. Please visit my web site for more info.
Description:
Whimsical, caricature letters of the alphabet created using animal fur, black panther, cheetah, calico cat, giraffe, brown rabbit, foal, jaguar, puma, yellow tiger and zebra. They also have tiny little eyes on the tops of the letters which may not be noticeable.