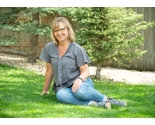 All designs by Cindy Eisbrenner
Hello fellow creatives! I would love to see your creations. Please feel free to share what you are working on.
Description:
This collection, curated with the quilter and doll maker in mind, has a variety of sizes for a few of the prints. Both the Medium and Small sizes would work well for quilting projects. Designed to create a more natural look, the Small Prints are perfect for projects like doll's clothing and small bags. Great Anticipation encompasses excitement, looking forward, and newness. As spring is quickly approaching, it draws in new life, spring flowers, spring air, outdoor adventures, and so much more. No matter what stage of life you are at, there are always new and exciting experiences to come. Embrace life with Great Anticipation of good things to come.