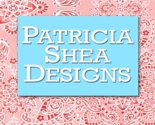 All designs by Patricia Shea
I love creating decorative, colourful and large scale prints perfect for home decor or couture style apparel! My work has previously been featured in Macy's, Bloomingdales and many other stores. Please be in touch for requests.
Description:
Fresh, bright, clean, crisp - just like the Alpine air. Created from some of the hand painted elements of a logo I designed for Alpen Rose Creamery in Arundel, Maine. Thanks Luke and Alison!