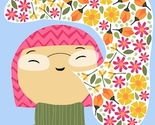 All designs by Wendi Gratz
I design fabric that makes people smile! Cute designs for the young and the young at heart, and blenders designed especially for use with my applique patterns.
Description:
Irregular scatter of big, fat, hand-drawn rings like spilled cereal. Tone on tone blender, perfect for quilters.