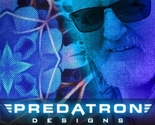 All designs by Steve Pinchbeck
I am an artist, 3D digital designer and writer living on the beautiful north coast of Cornwall, UK. Since 2004 I have been creating 3D models and graphics and since 2020 branching out into making stylised fabric designs.
Description:
An abstract floral print in shades of lilac and purple from the collection called Launceston.