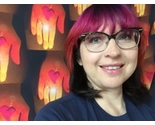 All designs by Tracie "Shine Ataraxia" Hodgdon
Philosopher, Autodidact, Non-Theist Pagan with an artistic bent. Back in school to finish my theatre degree! I find the extraordinary in the ordinary, pop it, twist it, and BOOM! Art. Do with it what you will.
Description:
pictures of me. on fabric. so I can wear my fabulous self.