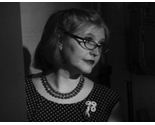 All designs by Becka Rahn
I am one of the co-authors of The Spoonflower Handbook. I am a fabric and clothing designer based in Minneapolis MN. I teach fabric and surface design, business skills for artists and fiber art techniques for all ages.
Description:
Stegosauruses steal the show and coordinate with bright basics.