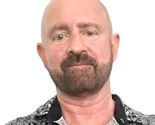 All designs by Patrick Moriarty
My textile print designs have been bought by major retailers worldwide for the last 22 years for fashion, accessories and home decor. In 2013 I launched my own website & brand paisleypower.com specializing in creating unique fabrics and fabric products.
Description:
Tango theme paisley pattern. Commissioned by Drew Moir for the Paisley International Tango Festival, in Paisley Scotland. The design was created by Patrick Moriarty of PaisleyPower.com. He hand-drew all the motifs and incorporated the official Paisley Tango logo. The unique motifs include: tango couples dancing, tango shoes, bandoneon and Scottish thistles. The paisley shapes were specially created in a style similar to Argentine record sleeves of popular tango musicians.