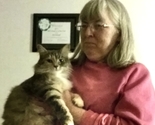 All designs by Kathleen Howard
Message me for resizing designs or colors changes and turning designs 90 degrees to better use the fabric. I share an interest in fabric design with my sister ArtbyJaneWalker . I'm a quilter and have a love of fabric. I can set up photos for pillows.
Description:
Marbled swirls created from a photo of trees and effects at Picnik. Sized from 8 inches down to 1 inch in various colors. Some are monochromatic and others are multicolored.