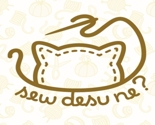 All designs by Choly Knight
Making kawaii sewing patterns for the world to share!
Description:
This wavy shape pattern is meant to look like an abstract, cel-shaded tree bark design. It has bold, swirly shapes with a slight grunge texture for some depth. It would be perfect for a forest sprite plush or something similarly woodsy!