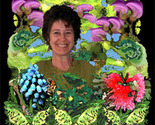 All designs by Ruby Rice
Wearable & Fine,Visionary Artist. For me, creating art is a spiritual process. 100% of my fabric designs are created from a blending of my original art images.
Description:
These designs are created using scanned plants, feathers, other precious treasures and often my hand painted fabrics or one-of-a-kind art creations..