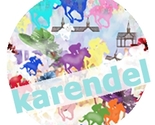 All designs by Karen Del Pellegrino
From the age of six I've sat at a sewing machine clothing Barbie with my talented Mom's fabric scraps, graduating to my own wardrobe soon after. To design my own fabric is a wondrous thing!
Description:
Though still clad in hot tropical prints and bold bright solids, I'm yearning to pull my favorite boots from their corner of the closet and pair them with a jacket or sweater. Soon it will be time to button up, take walks though the autumn leaves and become revived by the crisp, clean air. This collection will inspire a Fall/Winter wardrobe. Please remember, my designs here, and elsewhere on the internet, are always ©Karen Del Pellegrino, All Rights Reserved.