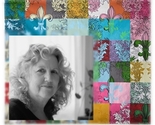 All designs by Julia Monroe
I am an author, photographer and freelance designer. I order proofs of all fabrics posted to my public gallery so as soon as Spoonflower prints the proofs, the design will be up for sale. Thank you for your patience. Thank you for stopping by.
Description:
Inspired by childhood coloring books and paper crafts, these designs bring back memories of days gone by.