Utreviolet's News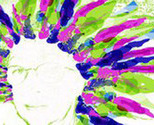 utreviolet commented on utreviolet's design:
Thank you for your order. I read your comment and I also find the pricing an issue. I have nothing to do with Spoonflowers decisions on such matters as the prices are preset by them. If I can help you design wise, colors or changes in design let me know. I would love to help you in matters where I have some control. Lois
p9mom commented on utreviolet's design:
I love the Polish fabric!! However, I'm wondering why the fabric became more expensive after the first order. I realize there might be an increase due to inflation but $6.50 a yard seems questionable and is a concern to me. I'd appreciate your consideration.