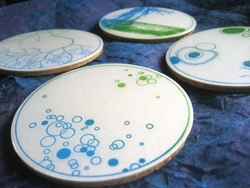 Erin Hayward
Merritt Island Florida USA
I love creating science themed design & home decor!
Protonpaperie's News
idiorhythmic uploaded a project photo for protonpaperie's design:
I used this pattern in the standard cotton to make a Miss Frizzle cosplay for a client. It turned out lovely!
threegirlpileup commented on protonpaperie's design:
Hi, it is possible to get a coordinating solid to go with this? Perhaps the darker blue or the teal that are in one of the large chromosomes? (Or I don't suppose you've considered making a coordinated striped fabric?) Love the design, will be using it either way to make a dance bag for my teen biology-geek ballerina.