Pooky's News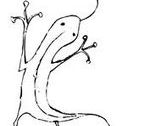 ddmote uploaded a project photo for pooky's design:
I made this little tote with my "Birds on the Line" fabric and pooky's "birdies" fabric. It's for sale at Pepper's, an artisans collective in Selinsgrove, PA. I printed the tag/logo/address attached at the top of the pocket at Spoonflower too to advertise the store. I really love pooky's fabric!
leslipepper commented on pooky's design:
Darling faces. So cute!