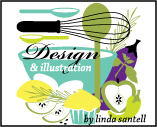 linda santell
Spoonflower custom prints my original designs, which I use for my fabric hobby. To see my finished tea towels, organic cotton napkins,earth-friendly note cards and other items with my designs, please visit me at the link provided below.
Linda_santell's News
rhondadesigns commented on linda_santell's design:
This design is vibrant and full of spicy flavour! It would look great hanging in a kitchen!