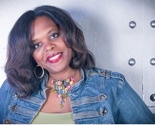 Karen Swartz Harris
Akron OH U.S.A.
A successful architect & commercial interior designer; these days I am loving my transition to product, graphic and surface design! Please contact me via my site for licensing info and join my growing list of licensees "izing" their products!
Izeondesign's News
su_g commented on izeondesign's design:
Such a beautiful pattern - a real classic I feel - and I adore it in these colors!