Designs by elspethrosedesign
Elspeth Rose
Leeds West Yorkshire England
I am an English artist with a love of all things dog, I am currently working on a collection of designs featuring an array of breeds. Be sure to follow me on social media to suggest breeds and keep up to date with the latest news!
Elspethrosedesign's News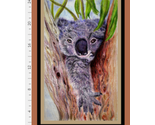 cloudsong_art commented on elspethrosedesign's design:
I just love these little hounds - you give them perfect character!
elspethrosedesign uploaded a fabric photo for elspethrosedesign's design:
Cotton Sateen