Diane Labombarbe
Chatham Ontario Canada
I'm an illustrator and photographer. I love designing patterns. If there is a specific theme you'd like to see, please contact me at di_sews@yahoo.com Contact me if you would like to license any of my designs.
Diane555's News
diane555 uploaded a project photo for diane555's design:
su_g commented on diane555's design:
Can't believe that I have the good luck to make the first comment on this terrific design! Wonderful to see something a bit different playing with the pineapples theme! It looks quite mid-century in the tiny scale that it comes up in for the wallpaper - I think I might be tempted to go for a bigger scale there!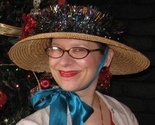 tallulahdahling commented on diane555's design:
Nice! And "Eat your peas" is an oh-so-familiar phrase from my childhood. :)
amy_g commented on diane555's design:
So gorgeous!!! The colors arre so beautiful together!!! Great job! :o)
atlas_&_tootsie commented on diane555's design:
I love it that the birds are all nesting outside the cages. Wonderful color combination. The wallpaper is beautiful.