Designs by coriander_shea

Coriander Shea Detwiler
I have waaay too many designs to purchase a swatch of each and every one before posting them here (that would be like thousands of dollars!), so PLEASE if you see something you're dying to buy, let me know and I will get it up for sale ASAP! Thank you! :
Coriander_shea's News
2000lightyearsfromhome commented on coriander_shea's design:
Hi! Can this design be scaled down?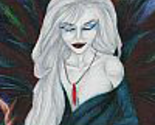 coriander_shea uploaded a fabric photo for coriander_shea's design:
Here is the REAL swatch of this image! Pic was taken with flash so much blacker than it appears. :)