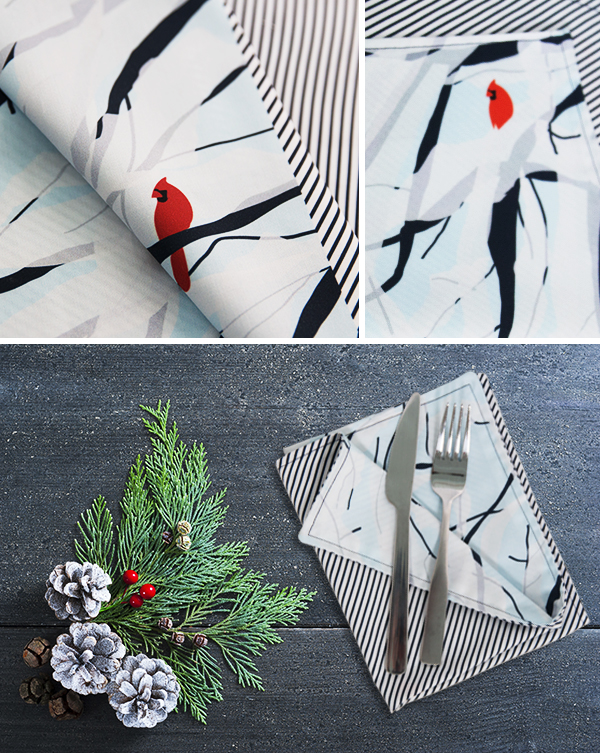 Winter Cardinal Napkin
Winter is finally upon us–temperatures have dropped and holiday decoration prep has begun! Make sure your kitchen table has plenty of holiday magic with these lovely DIY Winter Napkins. One side depicts a snowy winter scene and a bright, red cardinal, and the other side has diagonal lines in coordinating colors. This project takes less than 10 minutes to sew, and would make the perfect gift for a friend (or yourself!).
Our exclusive DIY Project includes:
1 fat quarter of Organic Cotton Sateen featuring our limited-run designs
A lovely postcard of printed instructions for finishing your project
Each DIY Project makes one napkin
This project always ships within two days.
Price: $14.00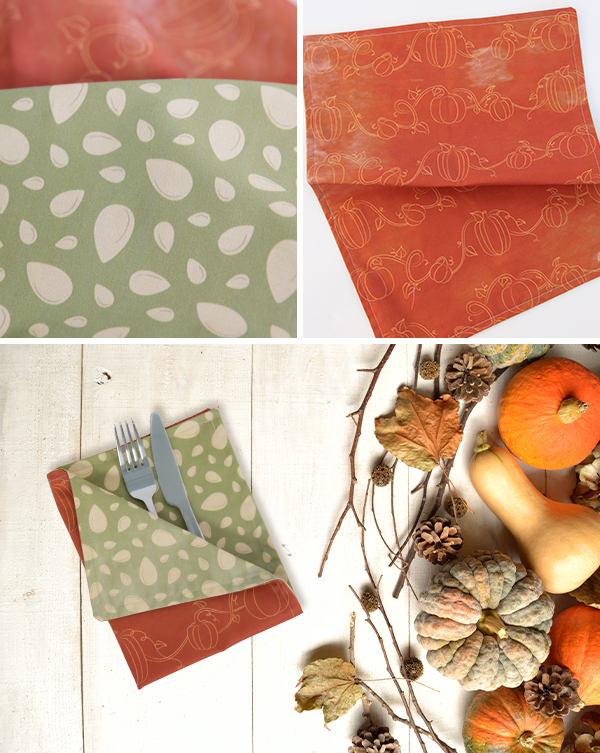 DIY Project: Pumpkin Patch Napkin
The rustle of leaves, the smells of pumpkin spice and bonfires, and curling up with a mug of something hot are just a few of the reasons why we love fall. In honor of our favorite scarf and sweater season, we're releasing a pumpkin-inspired fall DIY napkin project. Printed on our Organic Cotton Sateen, this project features pumpkin seeds on one side and a pumpkin patch outline on the other. Perfect for both beginners and experts, this napkin can be sewn up in about 10 minutes. Grab one (or a few!) while they last.
Price: $14.00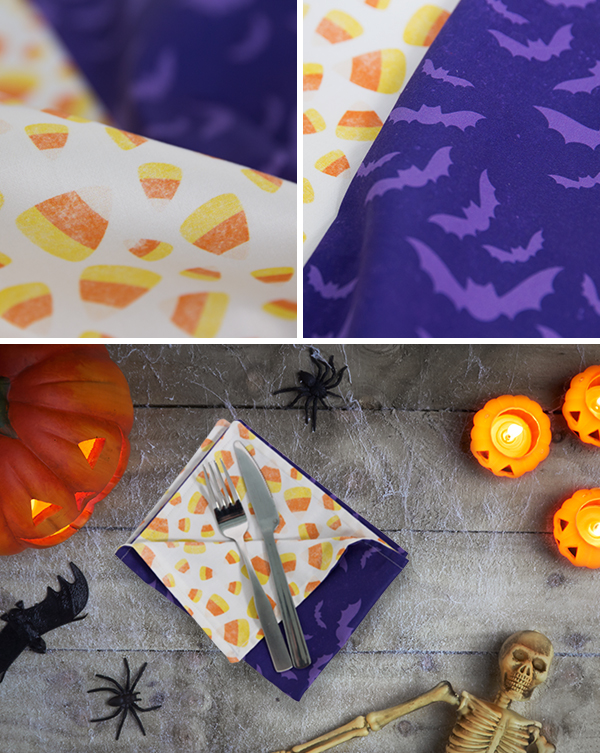 DIY Project: Halloween Napkin
October is one of our favorite months. As the air begins to chill, we start getting excited about Halloween. This season, we've scared up a spooky and cute DIY Halloween napkin project featuring sugary sweet candy corn on one side, and a colony of bats in flight on the other. Printed on a fat quarter of our Organic Cotton Sateen, this DIY napkin project will add a frightfully fun accent to your table!
Price: $14.00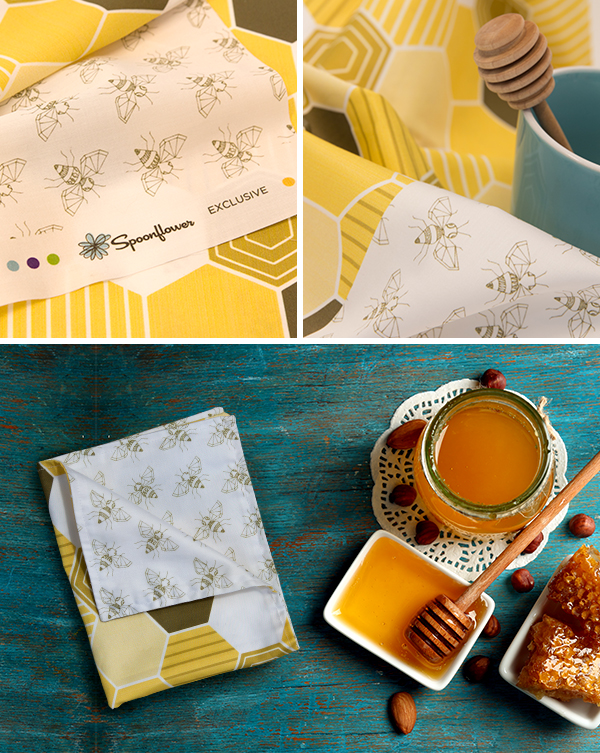 DIY Project: Honeycomb Hive Napkin
Even as summer begins to wind down, our buzzing friends are still hard at work pollinating flowers and making honey for us to enjoy. Join us in celebrating our sweet, industrious little friends with this DIY Honeycomb Hive Napkin. Perfect for adding a fun accent to any occasion, this napkin features a bee print on one side, and a geometric honeycomb pattern on the other. Printed on a fat quarter of our Organic Cotton Sateen, a set of these is guaranteed to create a buzz in your kitchen!
Price: $14.00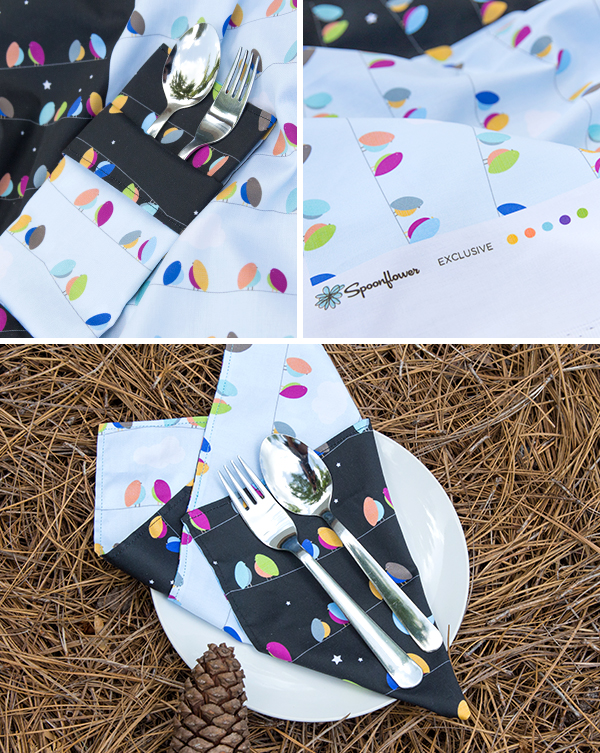 DIY Project: Birds of a Feather Napkin
Friendship is one of the most important things we can think of (next to crafting, of course). A good friend makes tough situations more bearable and fun situations much more enjoyable. Celebrate friendship and the people who stick with you through thick and thin with this adorable DIY Birds of a Feather Friendship Napkin. The perfect gift for those who flock together, this DIY napkin takes only a few minutes to sew up and is great for beginners and experts, alike. Add some cuteness to any setting and celebrate friendship with your closest pals!
Price: $14.00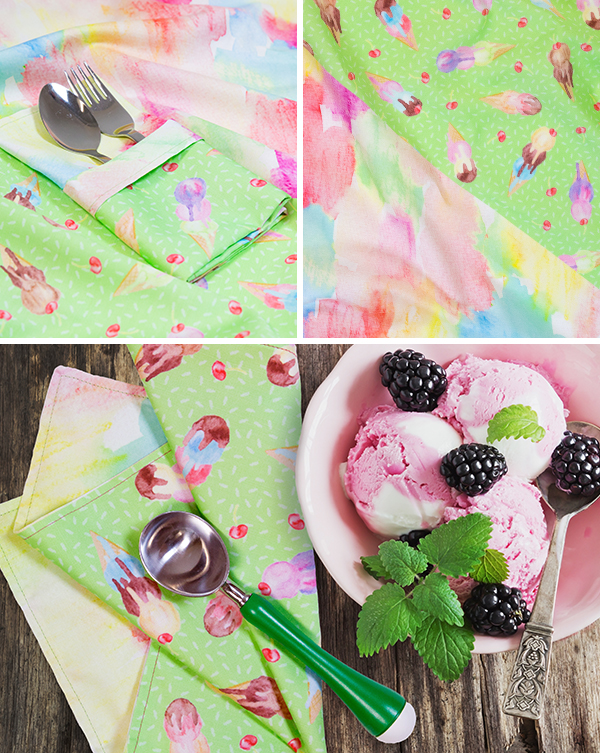 Watercolor Ice Cream Napkin
What happens when you mix ice cream and watercolor? Beautiful DIY napkin projects, that's what! During the dog days of summer, few things are as delicious and refreshing as ice cream. We love it so much, in fact, that we've combined it with another thing we love–watercolor–to create our newest (and dare we say sweetest?) DIY napkin project. Featuring bold and bright ice cream on one side and watercolor brushstrokes on the other, this napkin design is sure to delight during snack time. This DIY project is perfect for both beginner and veteran sewists, and can be sewn up in under 30 minutes for a smart, eco-friendly addition to your table.
Price: $14.00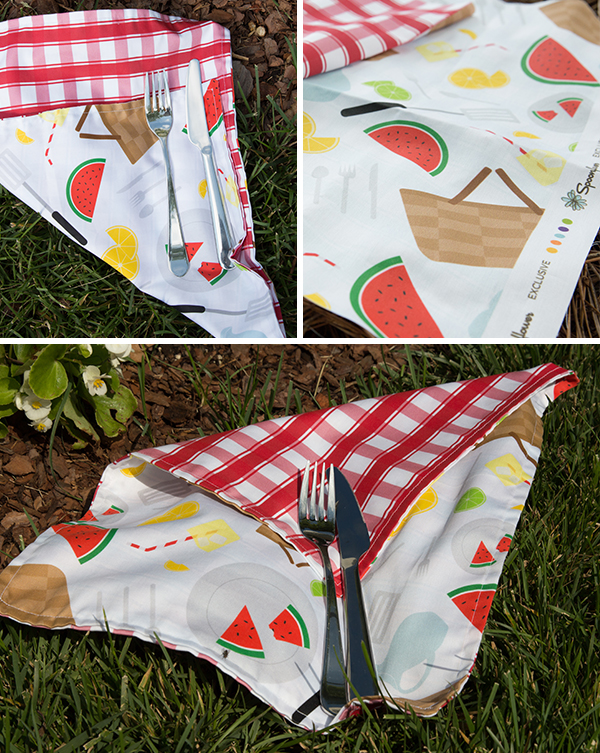 DIY Project: Picnic Napkin
Summer is for swimming holes, trips to the beach, tanlines, and picnics. We're particularly fond of the last one–and not just because we love food. Add some eco-friendly pizzazz to your next picnic with our newest DIY napkin project. Featuring a classic red gingham picnic tablecloth pattern on one side and a selection of picnic food favorites on the other, this watermelon-and-lemonade-covered print will transform any gathering into celebration of sweet treats and summer warmth.
Price: $14.00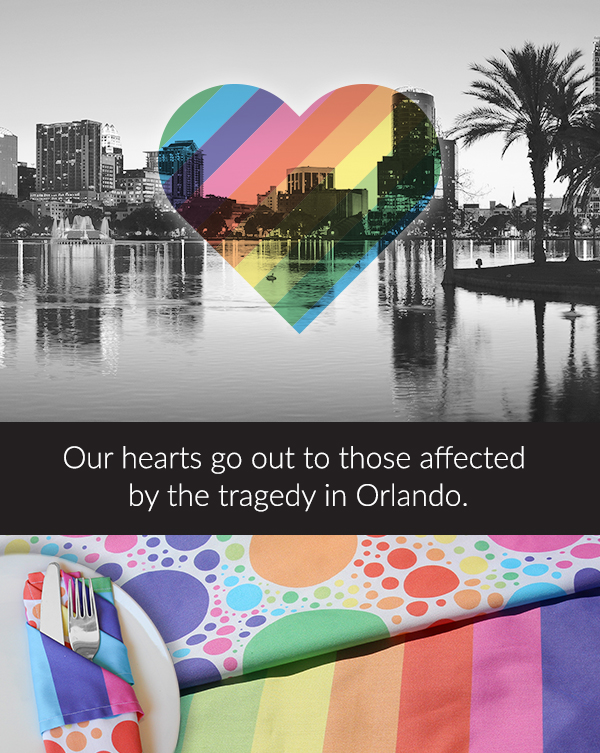 June DIY Project - Love is Love Napkin
We're showing our support for those affected by the tragedy in Orlando. 100% of the proceeds from our Love is Love Napkin sales through July will go directly to The Center, an Orlando-based LGBTQ advocacy group, to support the Pulse Tragedy Community Fund for the victims of the shooting and their families. Please join us in celebrating and supporting love with the Love is Love Napkin project. This project is quick to complete, and is great for both experts and beginners.
Price: $14.00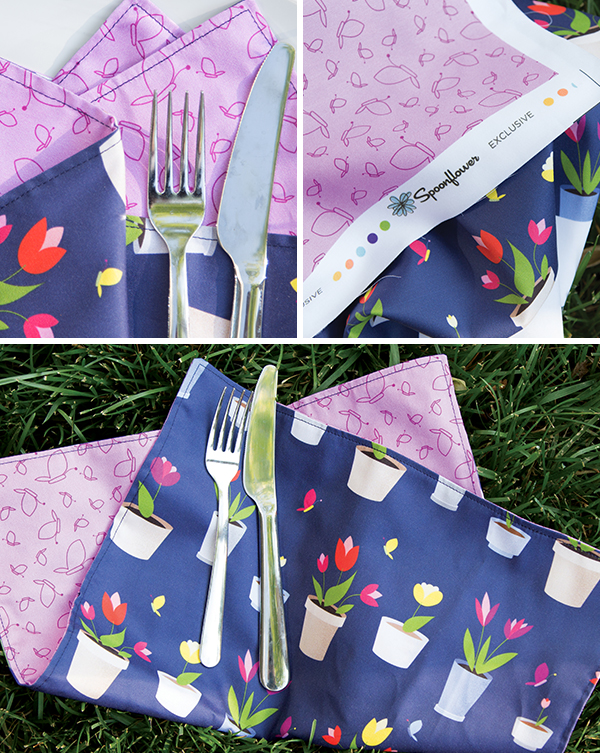 April showers bring May (Spoon)flowers!
For many of us, summer is right around the corner. And to show our excitement for the warm weather blooms, we've created this DIY cloth napkin project featuring two exclusive floral designs on one fat quarter of our Organic Cotton Sateen Ultra. This project is perfect for crafty beginners and experienced sewists alike and can be completed in about 30 minutes. Stitch together for a friend or for your next picnic.
Price: $14.00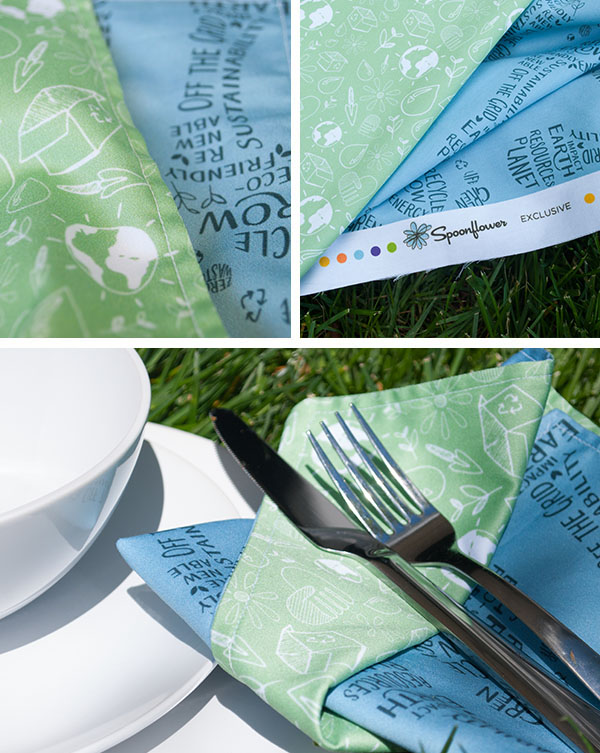 April: Earth Day Fat Quarter
Did you know that if 50% of the U.S. population used 3 paper napkins a day that would total 450,000,000 napkins a day? In honor of Earth Day, we've put together an eco-friendly napkin project.
Price: $14.00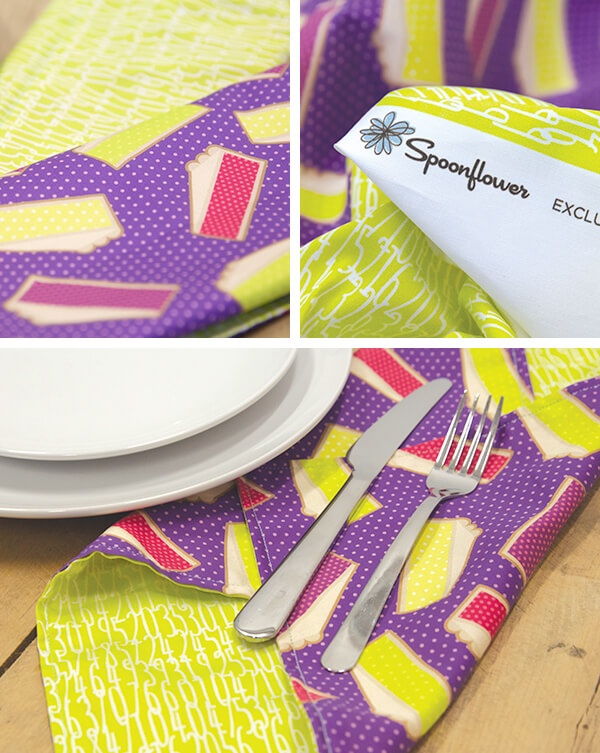 March: Pop Art Pi Day Fat Quarter
Fold and stitch for a reversible pocket square or napkin featuring pieces of pie (pun intended) in an eye-catching Pop Art style on one side, and some of the numbers that make up Pi on the other.
Price: $14.00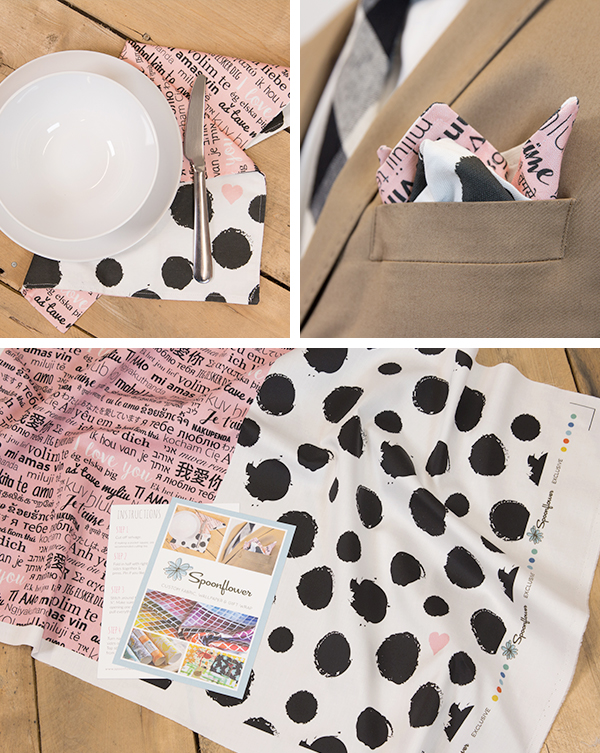 February: Valentine's Day Fat Quarter
This month's gift features the words "I love you" in 32 languages on one side, and large black polka dots with single light pink heart on the other.
Price: $14.00
Check back next month for another great DIY project!