The Spoonflower Handbook is an essential step-by-step user's manual and project collection for anyone interested in learning more about surface design for fabric, wallpaper and gift wrap.
Get a copy for $24.75
Also available from these booksellers:
Amazon, Barnes & Noble, Books-A-Million, IndieBound, Powells, !ndigo
The Spoonflower Color Map is another tool designed to help you with color matching and is set up to print onto one full yard of any of our fabrics and on 4ft of wallpaper. This color map is comprised of over 1400 color chips and their hex codes.
Order a color map on your choice of product
Color Guide
The color guide is an 8"x8" swatch of printed Basic Cotton Ultra with 171 color chips and their hex codes. You can use the color guide with design programs, such as PicMonkey, Photoshop, Illustrator, and Colourlovers. You can also use the color guide together with the color changer on Spoonflower.
$1.00 USD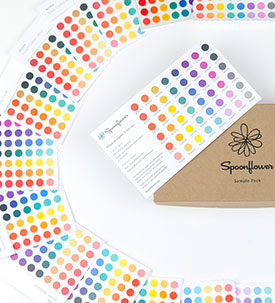 Each Sample Pack contains a 4" x 4" colorfully printed swatch of each of our fabrics plus printed samples of wallpaper and gift wrap. Shipping is free!
$3.00 USD