Enter your design for a chance to win prizes from Spoonflower and Headbands of Hope. Check back for new design partner challenges monthly.
---
Overview
We are delighted to team up with Headbands of Hope to create designs for an amazing cause. Headbands of Hope are given to children with cancer in hospitals across the US because, as Jess Ekstrom, founder of Headbands of Hope believes, fashion can be a great vehicle for positive self-identity. In honor of Childhood Cancer Awareness month, we hope this month's theme, "dreamers," will inspire designs of celestial and sky imagery and/or future aspirations, such as travel, careers, and people to one day meet. The top 5 winners will have their designs licensed for an exclusive Spoonflower + Headbands of Hope collection.
Check out our blog post and Pinterest board for more design inspiration.
The deadline for entries is Friday, September 16, 2016 at 3 PM EDT.
Headbands of Hope and Spoonflower will curate 100 designs from all submitted entries to be eligible for public voting.
Designs will be previewed at 150 DPI in a swatch size (8" x 8") on the voting ballot.
Headbands of Hope will choose a grand prize winner from the popularly-voted top five designs.
Designs previously published on the Internet are not eligible for this contest. Designs do not require printed proofing to enter the contest.
Moderation will take place at the close of the contest deadline.
Prizes
All top 5 popularly-voted designs will be licensed for an exclusive collection of headbands. Winners will receive 10% commission for each yard of fabric purchased to manufacture these headbands, along with a $50 Headbands of Hope credit + $50 Spoonflower credit. One grand-prize winner will have 50 headbands produced with their design and donated to their local children's hospital, or the children's hospital of their choice. Winners will also be featured in an exclusive press release written by Spoonflower, recognition in Sponsors' emails, blogs and on social media channels.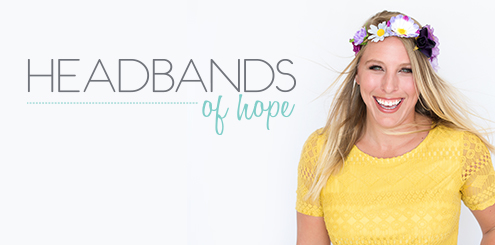 Headbands of Hope
For every ​item sold, a headband is given to a child with cancer.
Jess Ekstrom was moved to create Headbands of Hope in 2012 after a life changing​ ​internship with a children's wish granting organization, where she noticed the effect​ ​chemotherapy had on a young girl's self-confidence. The brand believes that a​ ​simple accessory can improve a child's outlook on both inner and outer beauty,​ ​uplifting them with just a small gesture. For every headband sold, a headband is​ ​donated to a child battling cancer. For more information, please visit www.headbandsofhope.com.
Headbands of Hope
Timeline
09/01/2016: Submissions open
09/16/2016: Submissions close at 3pm EDT
09/21/2016: Public voting opens
09/27/2016: Public voting ends at 3pm EDT to determine top 25 entries
09/29/2016: Spoonflower will announce the winner