We hope you've worked up an appetite for the final challenge of the month! Inspired by your favorite food, create a repeating design sure to curb your cravings. Whether you taste buds have you craving sweet or savory, remember to leave your bright colors behind because this challenge should only use black lines on a white background!
---
Overview
This July we're welcoming back a familiar design challenge partner and saying "hello" to a brand new one! The STEM inspired challenge with our friends at Princess Awesome will have you twirling with excitement, and our second coloring book challenge with the coloring app Lake, will have you working up an appetite. We can't wait to see where your designs take you this month.
Prizes
1 first place winner, chosen from the top 25 by Lake, will receive a 1-year Lake app subscription (valued at $59.99) and $200 in Spoonflower credit.
2nd place winner will receive a 1-year Lake app subscription (valued at $59.99), and a $100 Spoonflower credit.
3rd place winner will receive a 1-year Lake app subscription (valued at $59.99), and a $50 Spoonflower credit.
The top 8 designs from this week's challenge will be included in a special Spoonflower coloring pack on the Lake coloring app!
Remaining top 10 designs will win a 1-month Lake app subscription (valued at $7.99), and a $20 Spoonflower credit.
The top 25 popularly-voted designs will be automatically made available for sale in the Spoonflower Marketplace (provided they are a verified seller) where they will receive 10% commission on every sale -- no $5 swatch required.
The Winner
The rest of the Top 10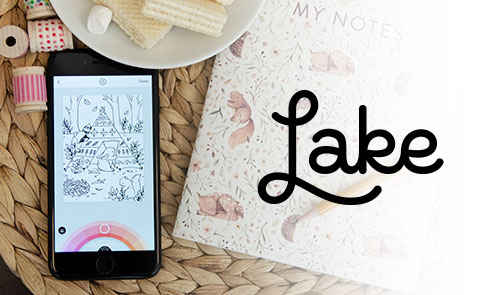 Lake
Good art deserves good things. And so do you.
Lake is a coloring app for iPad and iPhone that helps you de-stress through creativity. It comes with an ever-growing collection of coloring books from Instagram popular artists, offered exclusively on Lake. Right now there are 36 artists offering over 350 beautiful drawings, and there is something for everyone's taste! Coloring books include 12 beautiful illustrations, a custom color palette and endless coloring possibilities. Just as with Spoonflower, when you make a purchase on Lake, you support artists directly!
Lake
Food Frenzy Lake Coloring Book Details
The deadline for entries is Tuesday, July 24, 2018 at 3 PM EDT.
Designs will be previewed at 150 DPI in a fat quarter size (21" x 18") on the voting ballot.
All designs will be eligible for public voting, and the popular vote determines the top 25 winning designs. Lake will choose the top 8 from the popularly-voted top 25 designs.
Public designs previously uploaded on Spoonflower.com are not eligible for this contest. Designs do not require printed proofing to enter the contest.
Moderation will take place at the close of the contest deadline.
See our blog page for even more Design Challenge details and a list of previous themes.
Timeline
06/01/2018: Submissions open
07/24/2018: Submissions close at 3pm EDT
07/26/2018: Public voting opens
07/31/2018: Public voting ends at 3pm EDT
08/02/2018: Spoonflower will announce the winner