Overview
Our Betabrand Double Take Design Challenge seeks designs that invite a second glance to add to their lineup of prints. We are looking for quirky new takes on classic patterns, designs that reveal more than meets the eye upon a second glance, an allover print that could be two things at once (think: unicorn houndstooth), or simply something original, bold, and sure to invite conversation.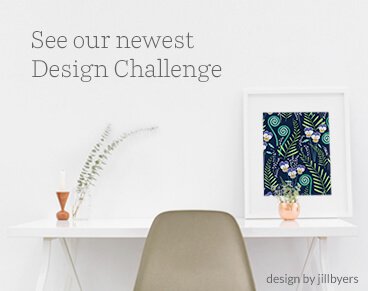 The Winner
The rest of the Top 15
Betabrand
New Ideas, Nonstop.
Betabrand is a crowdsourced, crowdfunded clothing company based in San Francisco. All new products start in Betabrand's Think Tank, where community members submit their clothing and print concepts. Designers of products that are chosen for crowdfunding make 5 to 10% on the sales of their products.
Betabrand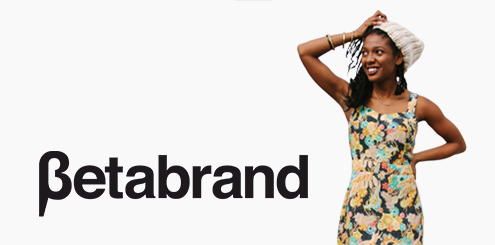 Betabrand Double Take Details
Check out our blog post and Pinterest board for more design inspiration.
The deadline for entries is Friday, July 15, 2016 at 3 PM EDT.
Designs will be previewed at 150 DPI in a fat quarter size (21" x 18") on the voting ballot.
Spoonflower Voting Round 1: The winner and the rest of the top 15 will be determined by popular vote. The winner of this round of voting receives a $500 Betabrand shopping spree. All top 15 entrants receive $50 in Spoonflower credit as well.
Betabrand Voting Round 2: All of the top 15 popularly-voted designs will be featured in the Betabrand Think Tank for a second round of voting in August. Any number of these designs could end up on real garments, making real money, but the popularly-voted winner of the Think Tank round of voting will win a $750 shopping spree at Betabrand.com as well.
Designs previously published on the Internet are not eligible for this contest. Designs must be created anew for this contest and uploaded to a new design slot in your Spoonflower account. Designs do not require printed proofing to enter the contest.
Moderation will take place at the close of the contest deadline. All entries adhering to the theme and created for this contest will be eligible for public voting.
Timeline
07/01/2016: Submissions open
07/15/2016: Submissions close at 3pm EDT
07/20/2016: Public voting opens
07/26/2016: Public voting ends at 3pm EDT to determine top 25 entries
07/28/2016: Spoonflower will announce the winner
Prizes
The winner of our Betabrand Double Take Design Challenge receives a $500 Betabrand shopping spree! All top 15 popularly-voted designers win a featured slot in Betabrand's Betabrand Think Tank for a chance to have their design voted onto garments for men and women. All entrants voted into the top 15 also receive $50 in Spoonflower credit!
How to Submit a Design
Log in to Spoonflower. If you don't have an account, create one here.

Once logged into your account, upload the design you wish to enter into the challenge.

Select Betabrand Double Take from the Challenges Dropdown.
For complete instructions, see the Challenge Terms and Conditions.
How To Vote
Voting for Betabrand Double Take has closed. Check out our current challenge!
Frequently Asked Questions
Who can enter?
This contest is open to ALL Spoonflower community members who are 18 years of age as of July 15, 2016. All submitted designs must be the original, previously unpublished work of the entrant created especially for this contest. Please do not use stock images or base your design on the work of another artist.
How many designs can I enter?
You can enter only ONE DESIGN in this contest. Designs entered in previous Spoonflower contests are not eligible. Designs licensed for reproduction on fabric with other companies are not eligible.
Can I share my entry on social media and make it available for sale in the Spoonflower Marketplace before voting opens?
The spirit of the Design Challenge is to give a creative prompt that inspires designers to create a new design that speaks specifically to the theme we have crafted with our brand partners. Our friends at Betabrand are seeking an exclusive set of designs to incorporate into their lineup, so all designs should be created anew for this Design Challenge. We absolutely encourage sharing your process and finished design on the web and you can make your entry for sale in the Spoonflower Marketplace, but to ensure that your work is eligible for the end product, we ask that it is not an existing design from your portfolio that has been previously made public on Spoonflower or another ecommerce website.
Who will judge the contest?
The winning design and the rest of the top 15 will be chosen by popular vote.
Who can vote?
Anyone can vote starting July 20, 2016, but only one set of votes may be submitted per individual. Email addresses will be collected from voters. Duplicate votes are filtered using fraud detection software and not counted toward final totals.
What if I don't want my design to be purchased by other people?
Designs are not made available for sale without explicit permission from their creators. By participating in this contest, you are granting permission to make your design available to the public for voting and non-exclusively for sale if your design finishes in the top 15. All designers finishing in the top 15 of this round hosted by Spoonflower will have their designs used in garment mockups and available for voting on Betabrand's Think Tank. Any designer finishing in the top 15 who is eligible for the next round of voting will be expected to license their design to Betabrand, should their garment be voted into production. Any subsequent design work will be negotiated between Betabrand and the winner of the crowdfunded garment.
Am I giving up the copyright of my design by entering it?
You are not giving up ownership of your design, but by entering your design in the contest, you give us the non-exclusive right, should your design finish in the top 15, to make it available for sale in the Spoonflower Marketplace per the customary terms of the Spoonflower Marketplace. For any sales generated in the Marketplace, you will receive a 10% commission. You will always be credited for your design and you are free to continue to sell it on your own, now and in the future.
How does voting for Think Tank projects work?
The 15 selected designs will be live for voting on Betabrand's Think Tank in August. The design with the most votes at the end of the month will win the $500 shopping spree at Betabrand. All designs in the Think Tank will be considered for use on Betabrand's existing garments.
What are the terms of the contract with Betabrand?
If a garment with your print crowdfunds successfully, Betabrand pays you 10% of the sales during crowdfunding period, and 5% of the sales after that for the remaining 11 months.