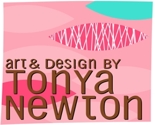 All designs by Tonya Newton
I am an artist and digital designer who currently resides in a suburb of Portland, OR. My designs and style are influenced by the 1950s/60s. I love to paint, design fabrics and art for prints and other products.
Description:
Atomic Age inspired fabric and colors.