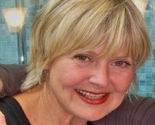 All designs by Sharon Holmin
Thanks for checking out my shop. I'm an Interior Designer in Los Angeles. I started playing with designs for wallpaper, and now I'm obsessed. This site is a great resource for a Designer; there are 1000's of brilliant designs here. See my favorites.
Description:
This pattern was made for my Color Theory class with the brilliant Judith Corona at the ARC-ID program at UCLA extension. We painted the pattern 4 times, using 4 different color harmonies to achieve different feels.