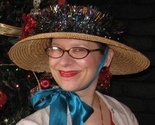 All designs by Barbara Himes Marinakis
I love acting, ballroom dancing, designing jewelry, fabric, and clothes,and I'm the author of "A Turn for DeWurst" at Amazon. Pen name: Sydney Kendall.
Description:
Small and mini coordinated prints in shades of green, with a vintage appeal. Great for all your green, small-print vintage needs.