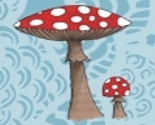 All designs by Naomi Minner
Naomi Minner is a Florida-based artist and creative. She is inspired by her supportive family and friends, the outdoors, and an undeniable love of shiny objects to spend her life creating and exploring creativity.
Description:
Based off of my collection of feathers, this series of fabric designs goes perfectly with my corresponding embroidery pattern set.