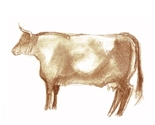 All designs by Jennifer Hathaway
I'm a fine artist who trained with two American masters. My work is in private collections all over the world, and I've done design work for some famous folks. Before all of that, my grandma taught me how to sew.
Description:
Painterly leaves in lemons, greens, salmon, and ultramarine.