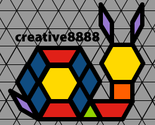 All designs by Susan Starkey
I have been sewing for forty-three years, quilting for twenty-three years, and designing fabric for nine years. I love to create complex repeats. Drop me a note for special requests or for custom design work.
Description:
Graphic sharks swimming in a brightly painted wave ocean.