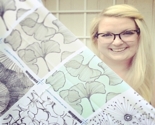 All designs by Katrina Huffman
Curious + Fanciful is an adventure in art and family, and finding balance within the two. All of these designs were hand drawn in my sketchbook, then brought to life on the computer. Thanks for the love!
Description:
Hand drawn, natural patterns in limited color palettes.