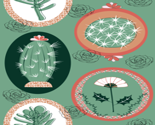 All designs by Lisa Early
I love all things natural; birds, fish, flowers, bugs, dirt, you name it! I love to create things with paint, paper and fabric, and I am delighted to be able to add surface fabric design to my list of joys.
Description:
This collection is inspired by African Wax Print textiles. Colors are typically intense, and a layered effect of underlying textures and overlying geometric shapes is often utilized. My golden yellow, brown and black palette is meant to invoke warmth.