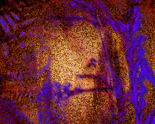 All designs by Marie-Therese Wisniowski
I work full time as an ArtCloth studio artist, researcher, author, curator, speaker & tutor and maintain Art Quill Studio in NSW, Australia. I am also a casual lecturer in textile/graphic art & design at the University of Newcastle, Australia.
Description:
A unique series of vintage style fabric designs based on images of my post-graffiti artwork depicting distressed, worn, aged and organic botanic illustrations found originally in illustrated books and now reinterpreted on contemporary urban walls.