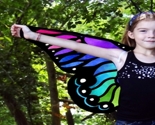 All designs by Wendy Sloan
I create original art for my own products and sometimes release the art for sale only via Spoonflower. All of my designs are Copyright Wendy Sloan. Many designs are registered with the US copyright office. Please contact me for licensing in USA only.
Description:
Little Red Riding Hood - you better run. Wolves, Owls and Bats, their eyes are on you. A forest of Willows and Vines stands between you and your Grandma's home, the first cottage just beyond the village. Will you make it there before the Owl steals your Cloak? A wretched starving wolf ends this Halloween fabric story.