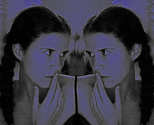 All designs by Tiffa Thompson
I'm all about extending my extremities to opposing sides so that ultimately everything balances out. I like sweet and nostalgic, and I like strange and morbid. I'm a welder/fabricator by trade who spends her off time sewing plush creatures. Yep.
Description:
Portraits, photographs, etc. that print as good sized panels for throw cushions, bags, etc.