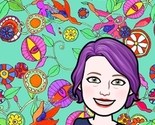 All designs by Leslie Magdaleno
I love modern art and vintage clothing, and I make art in Houston, Texas in my cozy teal green studio. My designs come from images that live in my collages and paintings with a bit of digital thrown in. I also love tap and line dancing and cake!
Description:
Van Gogh Scissors for quilting Fun!