Peacocks...beautiful peacocks!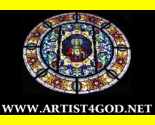 All designs by Rose Santuci-Sofranko
I am a happily married, Catholic, artist & photographer who loves to honour our Lord and Lady with my works! If you see a design in the "Designs Not for Sale" section that you want to buy, please drop me a line and I will make it available ASAP.
Description:
Most of these lovely peacock designs were created from photographs I took of peacocks. Some have had beautiful "Special Effects" digitally added to them. If you would like to see a different background color to any of these designs please feel free to "drop me a line". Thank you and God bless! Rose