Make YOUR Own!
11 designs by missyq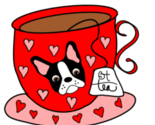 All designs by Melissa Quintana-Mitchell
I'm Boston Terrier momma of two and a lover of all! 100% self taught and often doodle with Duke on my lap, Daisy snoring away on the couch (the BTs) and Diablo the cat sneaking around.
Description:
Make your very own whimsical Boston Terrier pillow heads and little tote bags with a single fat quarter of fabric. Make sure to read each description for the correct fabric choice. A PDF tutorial is available for pillow and tote bag projects. Contact me with your email address if you would like one emailed to you.