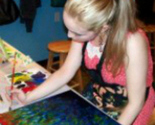 All designs by Julia DiSano
Hi there!! My name is Julia Di Sano, and I'm the artist behind Ebi Emporium :) Pleased to meet you. Painting is my life and BRIGHT, BOLD, SATURATED colors and whimsical designs are my passion!
Description:
A lovely 2014 collection of my whimsical and bright, rainbow colored fine art original painting designs for fabric, wallpaper, wrapping paper, etc!