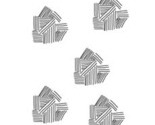 All designs by Sandeep Critchley
Planes Workshop is my creative studio and is based in Brighton. I design and create home and party decor using responsibly sourced materials. Everything in my store is made by me, and by hand so you can rest assured the only sweat in my factory is mine!
Description:
An explosion of colour.